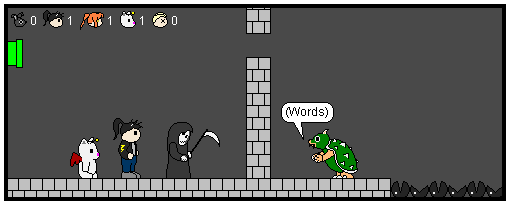 Turtle Thing: Welcome to my castle. Isn't it lovely? You'd never imagine how much it cost to get the contractor to put in the floating bricks and bottomless pits. I could have let you use the door I use to get here, but I thought I'd let you go through the solicitors' entrance.
I know why you've come. I won't let you simply take my Perfect Pie Pan. If you want it, you must fight me for it. See that pipe above you? It's going to spit out bombs to destroy you. However, you can toss those bombs through the opening in the wall to blow me up. I probably should have had the contractor fill that hole. Oh well, hindsight is twenty-twenty.
But don't think this fight will be so simple. Should you take too long...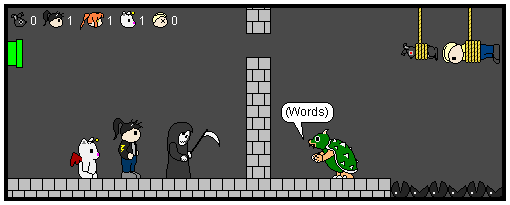 Turtle Thing: Your friends will be dropped into this bunch of demonic pac-men, or whatever they are. Let the battle begin!