The Blue Screen of Death tries to use System Failure on Pooky, but the black bunny blissfully shrugs off the attack.
Pooky counters by using Demoralization on the Blue Screen of Death who gets creeped out by the large hare he couldn't crash.
Blackout attempts to cause Nutty to blackout, but he hiccups and makes himself pass out instead.
Nutty uses Summon FF Character and brings forth someone named "Vivi".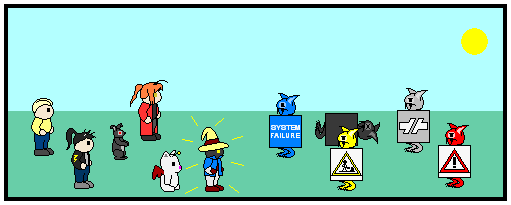 Disconnected attacks Nutty and disconnects him from the game.
Under Maintenance attacks Sparky but she doesn't seem to notice any effect.
Sparky tries to use her taser against Under Maintenance, but due to a great state of disrepair, the taser shocks her instead.
Bob tries to use his sword against Critical Error, but Critical Error causes Bob's sword to become a failed image link.